About the SEA Portal
The SEA Portal is an online platform that allows parents and guardians to access their child's SEA Performance Assessment via a desktop, tablet or cell phone accessible from (12:01a.m.) on July 1st 2022. Parents and guardians are advised to monitor the Ministry of Education's social media pages for further details. To access the Student Performance Report parents/guardians must have their child's Student Number, Date of Birth as well as the Admissions Number, which is printed on the SEA Admissions Slip. The hard copy of the Student Performance Report must be obtained from their Primary School for Secondary School registration.
The hard copy of the Student Performance Report must be obtained from the school for Secondary School registration.
Private Candidates must collect their (hard copy) SEA results at the Education District Office which had responsibility for their examination centre
Read More
The objectives of this system include the following:
a) Reduced crowding and congregation at schools on the day that SEA results are made publicly available;
b) Reduce anxiety among parents and students as this information can first be viewed at home, where it is expected that greater social/emotional support is available;
c) Promote a more efficient and organized method of scheduling the collection of results by school administrators (applicable for the 2022 academic year)
Read Less
Minister's Message
Dear students,
Congratulations to all who wrote the Secondary Entrance Assessment (SEA) examination on March 31st 2022. You have completed the second phase of your formal education, and what a milestone it is. I am sure you are relieved that it is over. Today would not be possible without the care and guidance of your principals, teachers, parents and guardians. They have been your circle of support; emotionally and physically all along this challenging road.
Read More
The next leg of your journey will require greater discipline and personal responsibility. Your secondary school years will be filled with hard work and tough choices; but most importantly you will have exciting new experiences. It will also bring numerous opportunities for your growth and development. Simply put, secondary school is a major phase in the journey of your life, and brings with it several changes. Going to secondary school is an exciting transition, it has a lot to offer— it's the place where you start figuring out who you are, and understanding what's important to you; it's where you stretch your limits and set the foundation for the rest of your life.
As secondary school students, a lot will be expected of you. You are now the next generation of leaders of Trinidad and Tobago, the next innovators, change agents. So as you enter into your new school, set goals for yourself, be prepared to work just as hard as you did in your preparation for your SEA examination and always be open to learn.
The Ministry of Education remains committed to working with your principals, teachers and other staff to ensure all students continue to have access to the highest quality education. We will continue to collaborate with all stakeholders to provide a most safe and secure school environment.
As I close, I remind you that the values and motto of the school must be upheld at all times, and you must always respect your teachers and those in authority. I urge you to live our national watch words of Discipline, Production and Tolerance, and to embrace this opportunity for secondary education with both hands as you continue to work hard. Focus on your studies and do your best, may your education journey be marked by success!
My sincere congratulations to you.
Read Less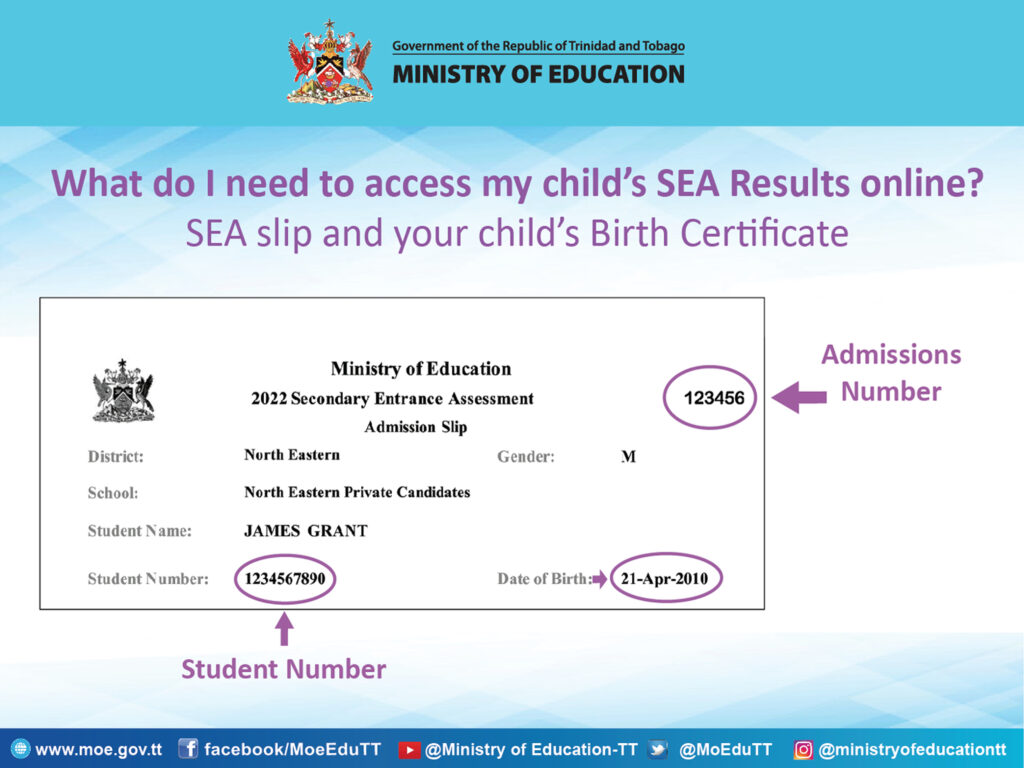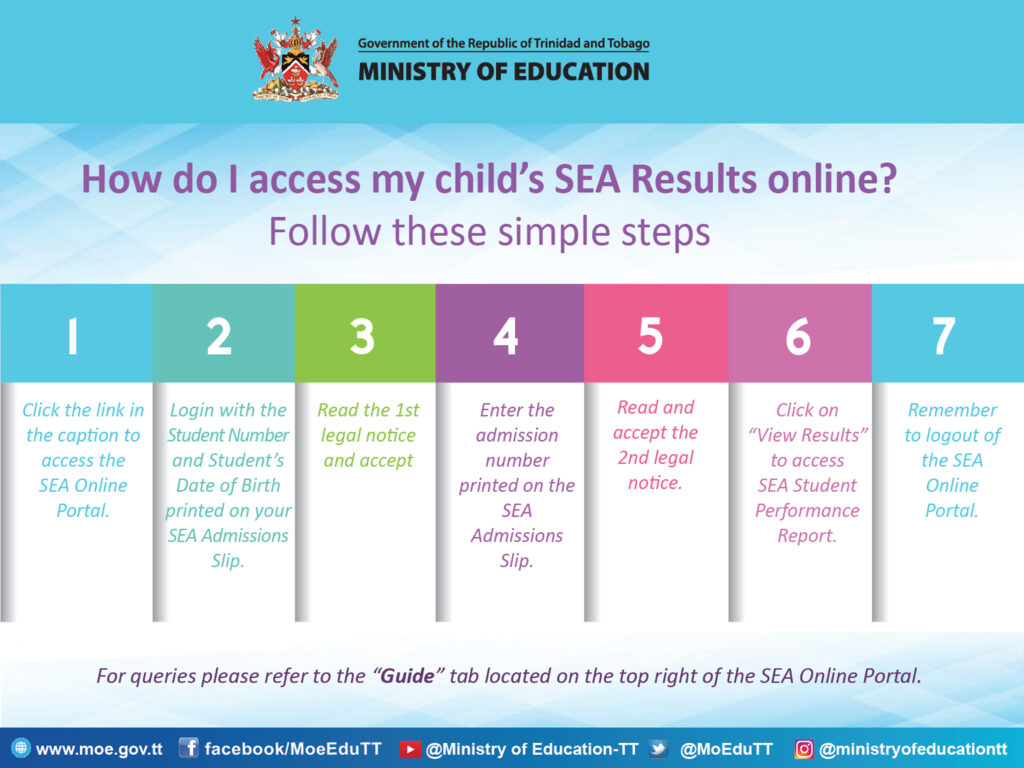 NOTE: The hard copy of the Performance Assessment must be obtained from the school for Secondary School registration.
Private Candidates must collect their (hard copy) SEA results at the Education District Office which had responsibility for their examination centre