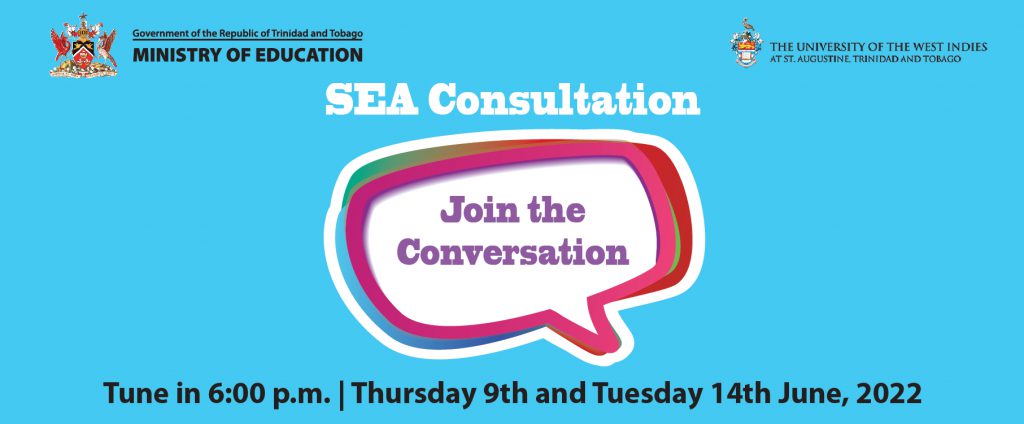 Confronting an Enduring Legacy: Policies, Processes & Partnerships 
THE SEA / CONCORDAT CONSULTATIONS 
June 2022
Document: Transition of Learners
SEA Join the Conversation flyer
Overview
Trinidad and Tobago attempted to reform its SEA selection/ placement system to secondary school in 1998 on the cusp of instituting Universal Secondary Education. The decision of the Task Force for Removal of the CEE at that time was to retain a test-based placement system.
The problem faced by the Task Force Committee back then was heterogeneity of abilities and schools. Is this also the issue today? This new committee must also confront the challenge of the Concordat agreement bearing in mind the history of the 2008 proposed Memorandum of Understanding and the more recent 2013 Ventour Judgment on Settled Practice.
How does a stakeholder/technical committee find its way through these interlocking issues? These consultations are designed to give a glimpse into the policy analysis process and the policy options that are currently available. As we seek system transformation, we must get there together by creating synergistic partnerships with clear future goals. Therefore, this process is about each one of us.
Why a consultation now?
A Cabinet Appointed Committee was formed in December 2021 for the Review of the SEA/Concordat in the transition of students from Primary to Secondary School. It was given 9 months to complete the Report. The Committee began working in January 2022. The Committee is using a participatory process. We have been talking to various national and international experts have explored theory and case studies; consultation data and empirical data, but we would like to tap into the public for them to understand what we are doing and to get additional direction, even now. The SEA/Concordat Consultation take place on two days
Day 1: Thursday June 9, 2022, 6pm
Theme: Policy to confront an enduring legacy
1. What process did we use?
2. The 2020 Consultations & more –
3. Emerging Issues-The primary-secondary school transition
4. System Goals & Philosophy
5. Policy Trajectory of the SEA & Concordat
6. Analysing & Using the Evidence
Day 2: Tuesday June 14, 2022 6pm
Theme-On partnerships-Change requires everyone working together
1. The role of parents in achieving system change
2. The role of school leaders in ensuring sustainable change at the school level-
3. The role of teachers in moving an education system forward –)
4. A Union's Voice-
5. Denominational Boards as Partners
6. Denominational Schools in the System-
7. A glimpse at policy options-
Share your views during the live broadcast on Facebook @MoEduTT,
comment during the livestream in the Zoom Chat or via WhatsApp on 776-0440.
You are also invited to email your views to SeaConsultation@moe.gov.tt